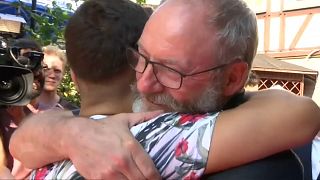 Game of Thrones actor Liam Cunningham was reunited with a young syrian refugee he first befriended in Jordan in 2016.
The actor was there to raise awareness about the plight of refugees. Hussam Al-Heraki is now living in Germany. He has starred in a short film, Halbnah which illustrates the challenges young refugees face in a new country.
Cunningham said Hussam had had a very difficult journey from Syria to Stuttgart and his positivity was incredible.
"This is the result of help. You have a bringing together of creativity, of art, of cross cultures. And when we cross cultures, everybody benefits," he explained.  "Separating people is a disaster, labelling people is a disaster. When you put people together, it takes away fear, it takes away distrust and this is why this man is my friend."
Hussam Al-Heraki is one of more than five million Syrians who have fled the country since war broke out in 2011.
The short film centrs around a refugee whose new German friends turn on him when they suspect him of stealing a bike. It will soon be available on YouTube.