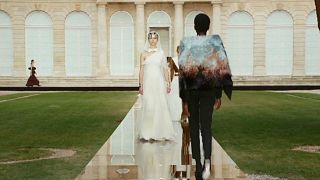 French luxury fashion house Givenchy opened the Paris Fashion week.
The new collection was dedicated to Hubert de Givenchy, the founder of the label who died three months ago.
The show took place in the gardens of France's National Archives.
Dutch fashion designer Iris van Herpen called her new collection "Syntopia".
The 34-year-old is inspired by the flight of birds and their movement across time and space.
She says, "Fascination for movement is always in my work and I think that definitely comes from my background in dancing. So I really zoomed in into what movement means both for a body and for the fabric that I'm working with."
The designer combined traditional weaving with modern techniques, such as laser cutting.
Corset dresses were made from birds' soundwave patterns, in layers of silk and acrylic to mimic the layering of a bird's feather.
The Haute Couture event will continue til the 5th of July.