French fashion icon Givenchy has died aged 91, partner confirms
Comments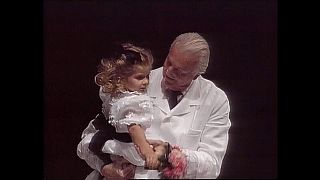 French fashion designer Hubert de Givenchy has died at 91, his partner confirmed Monday.
Philippe Venet broke to the news to AFP through the Givenchy fashion house, saying: "It is with huge sadness that we inform you that Hubert Taffin de Givenchy has died".
The esteemed fashion giant's last collection was in 1995, when he retired after an impressive career spanning five decades.
Givenchy was loved by some of Hollywoods main stars and was made famous for dressing Jackie Kennedy, Wallis Simpson the Duchess of Windsor and Audrey Hepburn, his great friend and muse for 40 years.
Those famous creations were shown in an exhibition at a museum in Madrid in 2014.
The Givenchy House says "he was a gentleman and his designs were refined and elegant, symbolising Parisian chic."
Audrey Hepburn's dresses from films such as Sabrina and Breakfast at Tiffany's were shown, together with the icon black dress and pearls.
Eloy Martinez de la Pera, the Tyssen - Bornemisz museum curator in 2014 says "He has been a big transgressor, and he has been, since 1952, when he created the "Bettina" blouse. He starts then breaking the codes of the haute-couture of that period. He was also a transgressor in the way he used materials. He was the one able to embroider on plastic and leather and he did that in the world of Haute couture !"
The House of Givenchy continues to be a star on the red carpets after more than 60 years.
Since his retirement in 1995 top designers such as John Galliano, Alexander McQueen, Julien Macdonald have taken the helm, with Clare Waight Keller currently the artistic director.
The aristrocrat was born in Beauvais but spent much of his career in Paris.
Givenchy died in his sleep on Saturday aged 91.