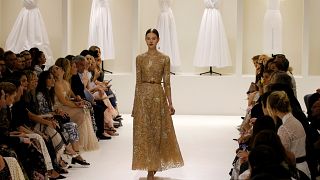 Fashion house Christian Dior went back to basics in Paris this week, presenting a deliberately paired-down Haute Couture collection.
The aim: to bring the focus back to craftmanship over flashy fashion.
Many of Dior's classic looks were revamped for the show - with shin-length full-skirts and a powdery pallette recalling Dior's signature 50s style.
Giambattista Valli went to the other extreme, presenting a collection rich with volume, texture and colour.
Valli says the show was inspired by avant-garde painter Francis Picabia and the free-spirited women in his life.
Only a handful of labels can call themselves 'Haute Couture' with major brands including
Louis Vuitton and Saint Laurent absent from the club. To qualify, houses have to have a presence in Paris, employ at least 20 people and make hand-made collections for private clients.