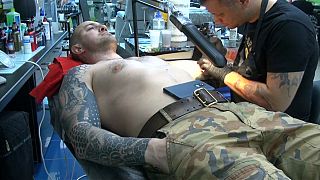 With Russia in the grip of World Cup fever, even tattoo artists are finding ways to cash in.
At a festival in St Petersburg, a range of football-themed tattoos are on offer.
One group of friends travelling from Brazil and Colombia were among the many who decided to commemorate their trip.
Juan Filipe Carre from Colombia said: "I want to remember this trip with the tattoo with my friends.
His friend Laura proudly showed off an identical tattoo, a map of Russia filled in with the colours of her team.
For St Petersburg tattoo artist Yevgeny Ivanov business is booming as fans from around the world flock to his studio.
"We're already seeing an increase. Every day a foreigner shows up," he said.
The atmosphere at the festival evoked passions from far and wide.
One Arsenal fan took the opportunity to get a tattoo of his hero - the former Arsenal and France striker Thierry Henry.
Whoever triumphs at this year's cup, these fans will be going home with indelible memories.