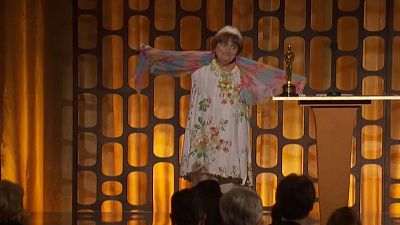 Iconic French film director Agnes Varda is turning 90. Belgian-born Varda's career stretches over half a century and she is the only female director who was part of the French New Wave movement.
She is also a feminist and was one of 82 women at Cannes this year who walked the red carpet to protest at the lack of women in the film industry.
Her career kicked off in 1955 with 'La Pointe Courte' about a young couple whose marriage is in crisis. Despite critical acclaim, the film was a box-office flop.
Six years later she directed 'Cléo from 5 to 7' - a film about fear and death.
The turning point in her career came with the 1985 film 'Sans toi ni loi' featuring a very young Sandrine Bonnaire. The movie won the Golden Lion award at the Venice film festival in 1985 and four French Cesar awards.
She worked twice with English-French actress and singer Jane Birkin who shot to fame with the duet 'Je t'aime... moi non plus' with Serge Gainsbourg.
In 2008, it was Varda's turn to take centre stage with 'Les Plages d'Agnès' where the director revisits places from her past.
Varda's films have won many awards and she has received an honorary Palme d'Or in Cannes and an Honorary Oscar for her contributions to cinema.
Her last film 'Faces Places' sees Varda team up with street artist JR for a road trip around France taking photographs of the people they meet on the way.
The documentary received widespread acclaim and was nominated for an Oscar.
The movie will be released in cinemas in across Europe and Asia over the next few months.