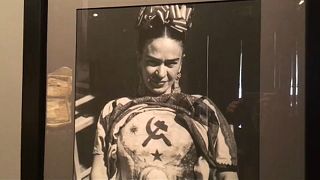 Mexican artist Frida Kahlo's has never been more popular, but her family struggles to manage her legacy.
Earlier this year, toymaker Mattel released a Barbie doll in Kahlo's image, ignoring protests from her family who took the case to court. They succeeded in blocking the sale of the doll. Undaunted Mattel asked for the injunction to be lifted with a decision expected in June.
"Frida Kahlo is not a product or a brand. Frida Kahlo is an artist,"says Cristina Kahlo, Frida Kahlo's great niece. "In the case of the 'Barbie' (in Frida's likeness), I also say that Frida Kahlo is not a doll. It is not the appropriate way to project the image of an artist at Frida Kahlo's level.
This month a new project aims to put the spotlight back on her art. Alphabet's Google has produced the largest digital collection of artefacts and artworks celebrating Khalo's life.
The collection intends to portray a more private side of the artist with works rarely found on public display,