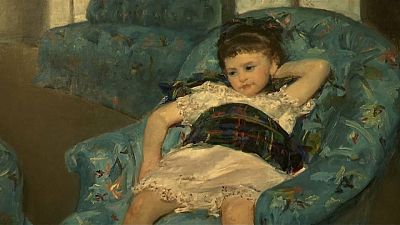 Despite spending more than 60 years painting in Paris, and considered by her home country as one of the greatest artists of her time, American Mary Cassatt has received little attention from the French art world.
A new exhibition in Paris hopes to change this, showcasing 50 of her major works, and highlighting her unique role as the only female American artist in the Impressionist movement.
After moving to Paris at the age of 22, Cassatt struggled to make her way in an art scene that remained closed off to women, and saw her works rejected from the prestigious Paris Salon.
It wasn't until she was invited by Edgar Degas to show her works with fellow Impressionists that she developed a more spontaneous approach, a biography noted.
The two developed a close working relationship, and one can draw many similarities between them; for instance, the short, thick brushstrokes characteristic of Impressionism, and the focus on drawing figures as opposed to landscapes.
Cassatt distinguished herself by painting scenes of family and household situations.
One of her most famous works, Little Girl in a Blue Armchair, is typical of Cassatt's style, in its intimate portrayal of childhood.
While not explicitly feminist, Cassatt's realistic portrayals of girls and women, such as her mother reading a newspaper, or a child slouching grumpily on an armchair, overturned usual depictions of females simply in a gazing stance.
Cassatt is considered to be one of the first artists to introduce Impressionism to the United States, and a significant influence on American painters.
The exhibition 'Mary Cassatt: An American Impressionist In Paris' runs until July 23 at the Musée Jacquemart-André.