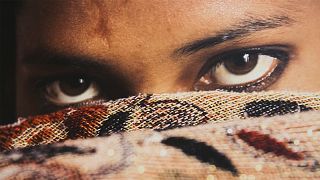 London's Saatchi Gallery is showing the work of French photojournalist Lizzie Sadin. 
Her exhibition of 36 pictures witnesses the rise of people-trafficking, notably of women, and forced prostitution in the so-called 'entertainment industry' of Nepal. 
Sadin, winner of the Carmignac Photojournalism Award 2017, took Euronews on an exclusive tour of her exhibition, starting with a graphic picture of a man holding a young girl down on the floor.
"This is in a dance bar in the centre of Kathmandu," she explained. 
"The boss took her, put her on the floor, and he simulated a rape. I asked him why he did that and he said to me, it was to give excitation to the customers so that they will order more drinks and more girls." 
Sadin gained the trust of both traffickers and victims, sometimes taking pictures covertly.
"I took pictures with this," she said, showing a small camera.
"And I was hiding this with my fan. I make like if I'm very hot... I take pictures and then I go."
Her investigation was made possible with the help of the Carmignac Foundation.
"Photographers are selected for the Carmignac Award on their project and not on work already done," explained Emeric Glayse, Director of the Carmignac Photojournalism Award. 
"They have a minimum of 6 months and 50,000 euros to do this project. Lizzie Sadin won the Carmignac Award because she knows the project by heart. She is a specialist. She knew how to find the information."
Sadin documented the Nepalese border where NGOs work to raise awareness of the plight facing young girls, lured by promises of a better life abroad.
Showing one of her photographs, Sadin pointed to a photograph showing a young women talking to police officers guarding a man in a cell.
"The trafficker is wearing a T-shirt on which is written: 'I'm not in danger, I'm the danger'. When I saw that, I thought 'I must take this picture, I have to have it'", she said.
Sadin manages to find aesthetics in this raw reality. The post-production process is free of retouching and there is no cropping.
"I am one eye, and I want to give to our eyes in the Western countries what happened there," she said.
"I can be in danger but I don't feel in danger. I don't think about danger. I do my job, I make my photos and I think 'I have to go' whatever is happening".
The exhibition, entitled 'The Trap', is on at the Saatchi Gallery until June 15.