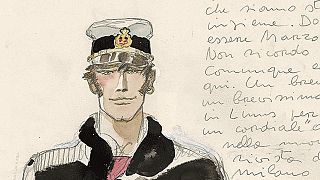 The Italian comic strip artist Hugo Pratt is the subject of a new exhibition at the Musée des Confluences in Lyon, France.
Pratt is best known for creating the character Corto Maltese - sailor, romantic hero and anti-hero - whose adventures take place during real historic events in the first three decades of the 20th century.
"This is a large and labyrinthine exhibition," says Euronews correspondent Sandrine Delorme. "It takes us from one universe to another. Comic strip blow ups are juxtaposed with ethnographic objects that plunge us into the cosmopolitan world of an artist who was Venetian, Ethiopian, Argentinian, American, European and above all curious about the whole world."
Corto Maltese's tales cross geographical boundaries - while staying on the frontier between fiction and reality.
"He was at the same time a genuine story teller, a genuine graphic artist and a genuine film director," says exhibition curator Michel Pierre. "So when you combine those three, you get the comic strip genius that he was. The work of Pratt is like a guidebook, but not for tourists or geographers, more a guide to being open to other worlds."
The exhibition includes a magic lantern display, animating the work of Pratt to music. It remains open until March 2019.