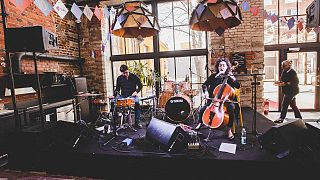 East meets West, Pop meets Punk, Jazz meets Folk. Anything goes at Tallinn Music Week which opened this year with a special birthday concert lead by renowned Estonian conductor Kristjan Järvi and friends.
This year's 10th anniversary coincides with Estonia 100th birthday – good reasons to celebrate. The music week has established itself as one of Europe's top city festivals dedicated to music, food, art and design.
"More then 260 musicians from around 30 countries played at this year's anniversary concert. Among them were many female musicians. Women with strong voices and a strong message," euronews correspondent Anja Bencze reported from the festival.
One of those musicians is Londoner Suzi WU. Punk is in the DNA of the 20-year-old. Her mum pitched up in the city in the 80's as a new wave punk musician. Suzi has released 'Teenage Witch' as a debut EP and is winning fans and positive press reviews. Her dad has also been a big influence.
"I watched my father play guitar when I was little and I just wanted to pick it up. And I've been singing since before I can remember. But I had a choral education. I liked going to church and singing in choirs a lot but I never actually had classical training. I just happened to have a good voice and a loud voice," she told euronews.
A meeting at Dresden's music academy in Germany led to the formation of the duo Ätna. Inez Schaefer and Demien Kappenstein are trained jazz musicians and have a love for electronic music. An influential producer has helped their progress.
"In the beginning it was more like jazz and world music in a quintet and then we realized very soon that we also liked to make tidy and minimalistic music just the two of us. Then we got involved with Berlin based producer Moses Schneider," Demian explained.
Atna's first EP has caused quite a stir and led to gigs from Rotterdam to Istanbul.
Ukrainian DJ, producer and singer Ivan Dorn is already a star in his part of the world. Now his fame is on the verge of spreading. His debut album OTD – Open The Dorn – is now on worldwide release and it is quite a mix as he explained.
"It consists of funk, hip house music, feature bit, electric electronic, indie dance, alternative pop I call it. It's everything."
"It's Open the Dorn, you open the doors?" asked euronews correspondent.
"Yes, you just open the Dorn, you will realise what kind of genre it is. It is a new genre, a Dorn genre!" he concluded with a laugh.
There's "Afrika" for example – a new video for the song has just been released. It is part of a charity project, helping set up a music school and orphanage for youth in Masaka, Uganda.
For the 10 anniversary of Tallinn Music Week – no birthday cake but a special city gig. Popular Estonian rapper Arop played on a mirror box in the middle of Tallinn's busiest square. So what of the future for the festival?
"In September we are starting a brand new festival in the border town between Russia and the EU. The city called Narva is 96 % Russian speaking population, an industrial town. So we will take the festival there," Helen Sildna, Founder & Director of Tallinn Music Week told euronews.
We couldn't end this review of TMW without mentioning one of the hottest Estonian music exports: ice-cold electro-pop-priestess Maria Minerva.
She has been living in the US for the last five years and was named one of the seminal Los Angeles artists by The Guardian in 2017. Maria Minerva is also a proud member of the Estonian Green Party.