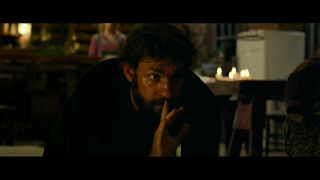 Imagine living in silence, when making the slightest noise could get you suddenly and violently killed.
That's the frightening premise behind actor and director John Krasinski's new horror film "A Quiet Place."
The film had its worldwide premiere at the South by Southwest Film Festival and its New York premiere last Monday.
Krasinski plays opposite his real-life wife Emily Blunt. the two are married since 2010 and have two young daughters.
The creepy film which plays with the balance between silence and sound also explores the topic of family dynamics and how to stay together under extreme conditions. Krasinski, who directed the film and is in the role of Lee Abbott, the family's patriarch, said he initially thought he wasn't the right person to direct the film.
It was only after his wife Emily Blunt, also starring in the film as Evelyn Abbott, gave birth to their second child, that Krasinski thought he could draw from his emotions of becoming a new parent to tackle the project.
"Three weeks before I read it, we had had our second daughter," Krasinski told reporters. "And so I was a wide open nerve. I was emotional and nervous and all those things that new parents go through. And so I really thought, if I did this movie, I could bring a lot of that to this movie. So to me, this is just a giant analogy or a giant metaphor for parenthood."
"I think my life experiences of being a mother was mirrored with this character and I just felt so deeply for her," echoed actress Emily Blunt.
Krasinski had some warm words to say about his wife:
"She's always been my favorite actress to watch on screen. And I think the thing that changed was I got to see how she does what she does. When you're actually in the room, when she does what she does, it's a game changer. I got to say the air changed in the room and people were just completely blown away. So to see you're on screen and be a fan I'm now a much bigger fan, knowing what she puts into it."
"A Quiet Place" is on Worldwide release.