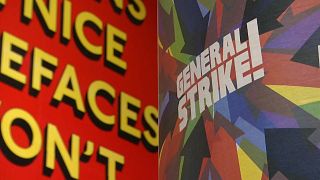 Alongside traditional posters and banners, the Design Museum's new exhibit charts the rise of digital media and social networking.
This, curators say, has given new graphic creations an extraordinary new reach.
"The different platforms or mediums in which these messages can be carried or presented or shared is what really is different about this moment in time," says curator Margaret Cubbage.
"This period, this decade, we've seen a shift in terms of technology."
The exhibit covers a range of political events - from the 2008 financial crash and the Barack Obama presidency, to the Occupy Movement, Brexit and the election of Donald Trump.
There's also works from the Arab Spring, the Charlie Hebdo attacks, North and South Korea.
It shows how the establishment has often used graphic design to assert its authority.
That iconography is sometimes subverted by activists and opponents.
"Very powerful ideas can be summed up in a matter of a few words and one image," says Lucienne Roberts, co-founder of GraphicDesign&, who helped curate the exhibit.
"And that's what the technology, in a way, has encouraged, is brevity. And so much of that is about the graphic design, absolutely. Where you place the emphasis on one word rather than another, how big an image it is, how big a face is, or how big an object is."
These pictures show an anti-sexual harassment campaign in the Chinese city of Guangzhou.
Having had attempts to hang their anti-harassment posters in a subway station rejected, feminist activists encouraged supporters to act as "human billboards" instead.
"These posters are basically an anti-sexual harassment campaign, and because she was denied the right to show them in a more orthodox way, she gets on to trains and just holds them up," explains Roberts.
"What's interesting is her bravery, which is we from a UK perspective wouldn't quite understand."
One exhibit section explores graphic representations of leading political figures, including Britain's Prime Minister Theresa May and opposition leader Jeremy Corbyn.
US President Donald Trump's recognisable image appears on over 50 international magazine covers, including The Economist, TIME and Der Spiegel.
"It's very hard to deny that Trump himself has become almost like a walking piece of graphic design," says Roberts.
"And he's what we could call a graphic icon. So, that wall we have of magazine covers, were illustrators, with incredible brevity, still manage to convey a lot, is because he is so identifiable, his hair, his tie, and his jacket. You know, any of those components now, singularly, would still say Trump."
The exhibit also features numerous graphic works made by supposed amateurs.
There's protest banners from women's marches in the United States and leaflets from London's Occupy movement.
Cubbage says it shows how graphic design has the power to reach out and empower people.
"These images can have the ability to really reach out and connect with other people and create communities," she says.
"We wanted to empower people with that message and show that graphic design has a place to really communicate and bring together people."
'Hope to Nope: Graphics and Politics 2008-18' runs 28 March - 12 August 2018 at London's Design Museum.