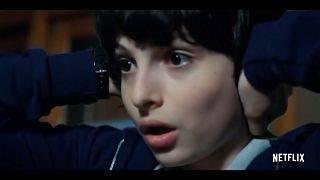 The much anticipated third season of Netflix's "Stranger Things" will begin production this month.
The supernatural, spooky drama series has been a critical success that has seen the cast nominated for numerous awards. That success has rewarded the cast with pay rise.
Charlie Heaton, actor "Stranger Things"
"I think it shows confidence that they are hoping to kind of engage and continue the show, in the same kind of way they have been doing,"said cast member Charlie Heaton, who plays Jonathan Byers in the drama.
Natalia Dyer, who plays Nancy Wheeler, said the hike in pay was recognition for the cast.
"It's a little nuts but you know as actors you really just want that kind of validation from any angle we can get it."The cast has being nominated for numerous awards and won for Outstanding Performance by an Ensemble in a Drama Series at the Screen Actors Guild Awards.
Now the ensemble are being recognised by Netflix, with larger paychecks for season three.