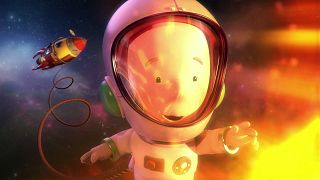 They used to be in the top five for showcasing films but it seems that Brexit is responsible for the UK showing just the one film at this year's Cartoon Movie.
Now in its twentieth-year Cartoon Movie, an animation film even in the French town of Bordeaux is a chance for filmmakers and film professionals to showcase what they've been working on in the field of animation. Importantly it also gives them the opportunity to get funding for their projects.
Where the UK is lagging behind other countries are picking up the shortfall. The 2008 financial crisis hit Spain especially hard. However, now tax rebates of between 20 to 40% are helping studios to recover financially. Carlos Biern, the President of the Spanish Federation of Animation Producers praised the initiative saying that the 20% rebate will be incredibly helpful to the Spanish industry.
Other animators are setting their sights further afield. Technological developments in Africa such as increased 4G coverage, higher speed internet and more cinemas being built. In this sense, it's a market ripe to be conquered by animators. One such is French producer Sebastien Onomo. His film about a Libyan child soldier is geared to appeal to this growing market. In an interview, Sebastien said he recognised the need for European involvement: "There will be a need for content and a need for entertainment for this population. But the content that hits home is that which reflects reality. For us it is important to be present as a European partner, to support this development rather than just the Americans or the Chinese".
It is impossible to say what impact Brexit will have on the UK's future presence at Cartoon Movie. For now, it seems the best path for many is unity.