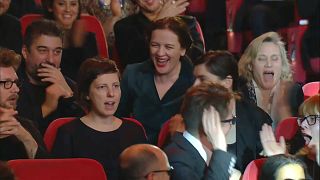 Disbelief was written all over the face of Adina Pintilie as her film, "Touch me not", was awarded the Golden Bear at the Berlin film festival.
It is her first feature, and she picked up a Bear for that, too. A huge moment for Pintilie, and for Romanian cinema.
The movie is a controversial exploration of sexuality, about a woman who rejects being touched. mixing amateur and professional actors who embark on a trip to push the limits of sexual experience.
"It's inviting the viewer to challenge their own perspective on intimacy, on beauty, on how people can relate to each other and to embrace the otherness, the other which is different to you," says Pintilie.
The best actor award went to France's Anthony Bajon for playing a drug addict who wants to go clean in a community watched over by catholic priests in Cédric Kahn's "La Prière".
The best actress award went to Ana Brun for playing a lesbian whose partner of 30 years is jailed for fraud, and then has to take her life in her own hands, starting a taxi service in the Paraguayen movie "The Heiresses", which also picked up two Bears.
"With the Golden Bear award to the film of Antila Pintilie the jury awarded certainly the most extreme film of the international competition. It is a surprising mix of documentary and feature and fiction with a layer of psychotherapy. The Berlin film festival likes to honour films with a new approach to film making," reports euronews' Wolfgang Spindler, from Berlin.