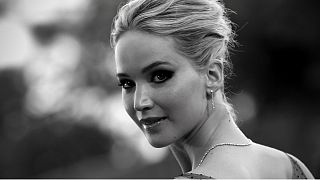 -
Jennifer Lawrence has defended her choice of dress at an outdoor photoshoot after social media users questioned her outfit.
Alongside four male co-stars wearing winter coats, Lawrence appeared at a promotional image for her film Red Sparrow on a London roof terrace in a split Versace dress.
London temperatures this week have hovered a little above freezing.
Lawrence said she was "offended" by the focus on her choice of clothing, and insisted it was her decision to brave the weather in the name of fashion.
"I would have stood in the snow for that dress because I love fashion and that was my choice," she wrote on Facebook. "This is sexist, this is ridiculous, this is not feminism...Everything you see me wear is my choice. And if I want to be cold THAT'S MY CHOICE TOO!"