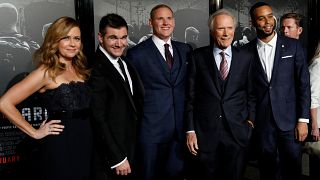 Hollywood Legend Clint Eastwood turned out in Los Angeles on Monday night for the world premiere of his new movie "The 15:17 to Paris," which tells the true story of three Americans, two of them off-duty soldiers, who subdued a gunman on a French train in 2015.
Also at the glittering event were the three Americans themselves. They were there to see how they performed, because Eastwood cast them to play themselves in the movie, something he has never done before. 
"I just used a little different technique than I would with regular actors," said the Hollywood veteran. "Where you kind of discuss the characters of it. They were the characters, so I didn't want to ruin it by discussion. They were no problem at all. It adds a certain thing to this particular type of project."
The film is based on real events. It was in August of 2015 when the three young Americans were vacationing in Europe. On a train trip from Amsterdam to Paris, they stopped an attack by tackling and disarming a Moroccan-born attacker armed with an AK-47 assault rifle, a 9mm pistol and other weapons.
The three made headlines around the world for their bravery, which officials say saved hundreds of lives.
"We were so shocked," said Alek Skarlato, one of the three. "It was like, we all just said yes immediately because we realised what an opportunity it was. But then the second Clint left the room, it was like, 'Can we actually, like, pull this off? Like, we are probably going to ruin the whole movie.'"
The three friends received the Legion d'honneur, France's highest honour. They are now pursuing careers in acting.