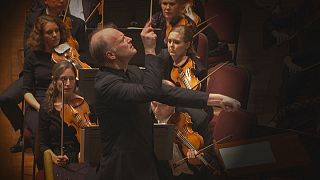 He is one of the greatest conductors of his generation. Gianandrea Noseda is the new Music Director of the the National Symphony Orchestra in Washington.
The Italian maestro's name is the latest on a prestigious list. Since its foundation in 1931, directors have included Hans Kindler, Howard Mitchell, Antal Dorati, Mstislav Rostropovitch and Christoph Eschenbach.
Eroica: a symbolic choice
For his very first concert in his new role at the Kennedy Center, the Italian maestro chose Beethoven's 3rd Symphony – better known as the Eroica. A symbolic choice.
NosedaG</a> is back! Enjoy a glimpse of our Music Director&#39;s rehearsal for this week&#39;s program featuring Beethoven&#39;s "Eroica": <a href="https://t.co/EmusQc30SS">https://t.co/EmusQc30SS</a> <a href="https://t.co/jImnmIqeZG">pic.twitter.com/jImnmIqeZG</a></p>&mdash; National Symphony (NSOtweets) 9 novembre 2017
'' Eroica is a turning point. Until that time, the longest symphony lasted 31-32 minutes. Beethoven expanded the length of the symphony over 50 minutes. And until that time, the structure of the symphony was much simpler. I don't want to break down with the tradition of this orchestra, but Eroica is a sort of column, it just stands for itself.''
Gianandrea Noseda, NSO Music Director
As concertmaster, Nurit Bar-Josef is Gianandrea Noseda's right-hand. In a profession overwhelmingly dominated by older men, Bar-Josef was the youngest concertmaster ever appointed to a major symphony orchestra at the age of 26. Sixteen years later, she still sees her job as incredibly rewarding, and says meticulous preparation is key.
"Technically, and that's the beauty about Beethoven, everything he wrote just sits so well on the instrument and always feels good to play and the struggle is more in the bow control, you know, creating the different sounds and dynamics that he wanted."
Nurit Bar-Josef, Concertmaster
"If this truly excellent concert is a harbinger of things to come, the Noseda era is going to be a thrill ride for listeners."—Washington Classical Review on Thursday's program w/ NosedaG</a> & <a href="https://twitter.com/CMWSoprano?ref_src=twsrc%5Etfw">CMWSoprano: https://t.co/EmusQc30SSpic.twitter.com/jjN8NKWqGP

— National Symphony (@NSOtweets) 11 novembre 2017
Homage to Napoleon
Composed in 1803, Eroica paid homage to the ideals of the French Revolution.
"He wanted to dedicate this symphony – at the beginning he did – to Napoleon Bonaparte, but when he was reached by the news he proclaimed himself emperor, he just scratched the name Napoleon. There is a hole in the paper, in the manuscript. So also the marche funèbre in the second movement, is a marche funèbre considering all the big visions, the ideals he expected Napoleon to fulfill."
Gianandrea Noseda, NSO Music Director
Noseda: a contagious energy
"It's mostly refreshing to have a new music director and just sort of a new way of looking at things. The beauty of Maestro Noseda is when he steps on the podium he has this sound that he brings with him and so I feel that the sound of the orchestra is really… it's just like bigger than life!"
Nurit Bar-Josef, Concertmaster
"My ambitions about NSO are very simple: just to be consistent in delivering the highest possible quality. The competition, worldwide, is very tough. It's not enough to be 'bravi', you have to be exceptionally 'bravo'."
Communication is key to drawing a large audience. An audience to whom Noseda directly introduced himself ahead of the concert, which earned him a standing ovation. A promising debut.
"If this truly excellent concert is a harbinger of things to come, the Noseda era is going to be a thrill ride for listeners."—Washington Classical Review on Thursday's program w/ NosedaG</a> & <a href="https://twitter.com/CMWSoprano?ref_src=twsrc%5Etfw">CMWSoprano: https://t.co/EmusQc30SSpic.twitter.com/jjN8NKWqGP

— National Symphony (@NSOtweets) 11 novembre 2017