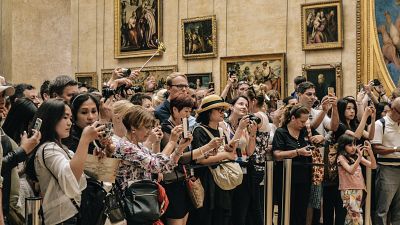 The last Leonardo de Vinci painting in private hands is going to auction in New York next month.
"Salvator Mundi" is a depiction of Jesus with a pre-sale estimate of around 100 million US dollars.
It is a very unique opportunity, as Alan Wintermute, Christie's Senior Specialist of Old Master Paintings pointed out:
"And there are only about 15 or 16 paintings by him that have survived. And even among those several of them are unfinished so the rediscovery of a completely finished fully worked up painting by Leonardo da Vinci is the rarest of events in the art world. It is a great painting by Leonardo, of the sort that is absolutely unobtainable and has been unobtainable for well over a century. So this is a once in a, not even a lifetime, a once in several lifetimes opportunity."
The same sale at Christie's will also bring under the hammer Andy Warhol's monumental "Sixty Last Suppers," a piece from one of the pop artist's final series before his death in 1987. The multiple-image work is estimated to fetch 50 million dollars.
"Salvator Mundi" will be sold at Christie's in New York at its November 15 sale of post-war and contemporary art following public exhibitions in Hong Kong, London and San Francisco.