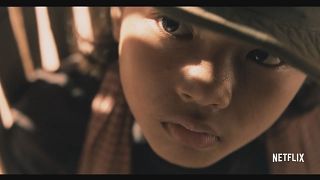 Angelina Jolie premiered her latest directoral effort "First They Killed My Father" in New York on Thursday.
It's her fifth time as director.
The film, is an adaptation of Cambodian author Loung Ung's memoir. The film follows the 1970s Khmer Rouge regime under which more than 1 million people died.
Jolie says she owes a lot to Cambodia.
"I came to Cambodia 16 years ago and when I landed I realised how ignorant I was to world politics. I knew very little about the country, about what had happened, and in that realisation I made a commitment to educate myself."
The actress and director filmed her first Tomb Raider there, she adopted her son Maddox there in 2003, and was awarded citizenship in 2005 for the work of the Maddox Jolie-Pitt Foundation.
"They are extraordinary people, great artists and I felt very at home and I felt instinctually that my son was there and I became a mother because I love and felt so connected." Jolie added.
"First They Killed My Father" is available on Netflix from Friday.