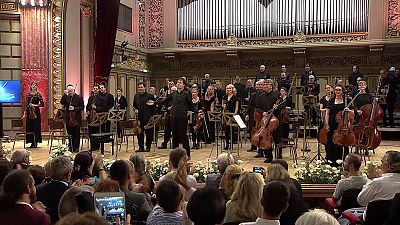 The Enescu Festival had a grand opening with the London Philharmonic Orchestra and its conductor Vladimir Jurowski performing the opera Œdipe.
It was composed by the Romanian composer George Enescu and is based on the Greek mythological tale of Oedipus.
This festival is one of Europe's biggest classical music events. It is held every two years in Romania's capital city Bucharest to honor the musician, composer and conductor who is often referred to as "the greatest musical phenomenon since Mozart" and "one of the greatest geniuses of modern music".
Jurowski is the new artistic director of the festival
"He was a truly great composer and a visionary and a humanist as well," says Jurowski.
"So I think there are two tasks, one is to raise awareness of Enescu's music and to carry the message of Enescu and that is the message of Beethoven really: 'Seit umschlungen millionen,' that's what he is saying, millions embrace yourself, become brothers and sisters."
The Romanian Raluca Stirbat, based in Vienna, Austria, is an internationally renown pianist and a real specialist in Enescu's music. She has recorded all his piano compositions.
"Of course," says Stirbat, "the music is not easy to play and as later his compositions are as more things are complicated.
"The secret to playing Enescu's compositions is that you have to understand and master them so well, that the audience has the feeling that you are improvising on stage. One has to lose the notion of time and space."
Joshua Bell is a Grammy award-winning violinist and conductor. In 2007 he played his Stradivarius violin unrecognised in a metro station in Washington DC. He collected more than forty dollars after 45 minutes. Here he is with his famous "Gibson Stradivarius" that he bought for a little under four million dollars.
"Classical music gives us beauty and something perfect in a way, says Bell.
"Beethoven created something that we wish the world were like, you know, we need that in our chaotic world, something which is beautifully structured and brings joy and emotions to everyone.
"And its a wonderful thing for young people to have in their lives as well. I really believe, every child should be playing music, this is a big passion of mine to get more children playing music.
Since 20112 Bell has been the conductor of the famous London-based chamber orchestra Academy of Saint Martin in the Fields.
More than 3,000 musicians in three weeks of festival, which is packed with top-class world stars. The audience interest is impressive, the main concerts will be certainly all sold out. Under the leadership of the new artistic director Vladimir Jurowski, the George Enescu Festival will appeal to an even wider audience.
Wolfgang Spindler from Bucharest for Euronews