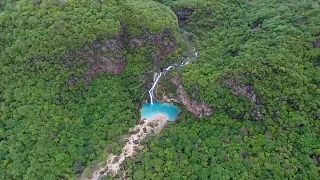 Can you guess a moment where we are: Iceland? Ireland? Norway?
We are much further southeast… in the Arabian Peninsula: for three-months over summer, the landscape becomes a sea of green as the monsoon rains sweep though.
SEEPICS | In deserts of #Oman, #Salalah brings relief for visitors from scorching heat https://t.co/0pTSnZA2Azpic.twitter.com/Mfxg42IMVo

— Financial Express (@FinancialXpress) 24 août 2017
Salalah is blessed with a cool climate and green scenery from July to September due to this unique monsoon. This natural phenomenon has long drawn seasonal migrations to the coast – but in the 21st century it is drawing tourists from the Arabian Gulf fleeing the scorching summer heat.
Muna al-Ajmi, visitor:
"Having a city with such a weather in a country where mostly the weather is hot, this itself makes it magical and we wanted to experience it."
While temperatures hit 40-50 degrees Celsius across the Gulf region, the temperature here hasn't exceeding the 20s.