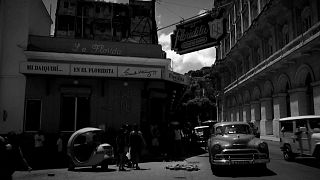 After 200 years, one of Havana's iconic bars still attracts hordes of thirsty drinkers, many of them Americans eager to take in the place that writer Ernest Hemingway made famous when he lived on the island.
It was called the "Silver Pineapple" when it was opened by a Spanish entrepreneur in 1817, then the name was changed to "La Floridita" in the early 20th century, at the urging of the mostly American crowd that thronged its long mahogany bar.
One of those U.S. drinkers was Hemingway, that legend has it, spent many nights downing the bar's famous daiquiris, a frozen rum drink popularized by the writer, who claimed to have invented the cocktail.
The local bartender says Hemingway's claim to have invented the daiquiri is not true, but the writer made the bar one of the most famous in the world during the two decades he spent in Cuba.
Now dozens of American visitors pack the bar every day, taking in the atmosphere, while sipping a frozen daiquiri and arguing over whether Hemingway actually invented the popular frozen drink.