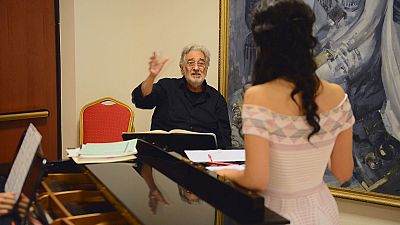 In this euronews Web bonus video, opera maestro Plácido Domingo is backstage at Kazakhstan's national opera house in the capital Astana for rehearsals before July's Operalia competition.
Plácido Domingo, Operalia founder
It is a nation that has grown in very little time. They have built a fantastic opera house and they really love opera. They have done, in three years, they have done something like 28 productions and the public is enthusiastic and they love it."
I always say to the singers: the music starts with mathematics. But behind, you know, hidden in those mathematics, there is all, all the passion, there is the comedy, there is the crying, there is the tragedy.
In the competions, it's the opposite I say to the participants. I say: you come and you put all your heart, with all your passion. And then, it comes back to mathematics. Because either you get an 8, you get a 9, you get a 10. Sometimes it's the matter of one point, two points you know!"