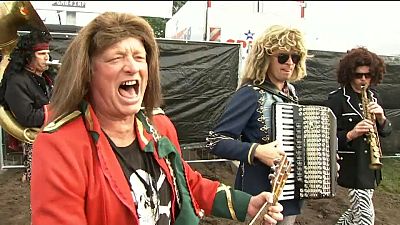 If you are a heavy metal fan you might right now be in Wacken, Germany, for the 28th Wacken Open Air festival.
Some 75,000 fans young and old have gathered to hear 150 bands who will play up until Saturday.
Thursday is the first official day but the Wacken Volunteer Fire Brigade's band was already belting out the tunes on setup Wednesday for the early-arrivers.
The festival has been sold out for weeks, the 12th time this has happened, and with a bill including legends like Alice Cooper, Status Quo and Marylin Manson it is not hard to see why.
The dress code is preferably black, but despite its reputation as being able to hide any stain, the four days of revelling are likely to leave some deep impressions no washing will remove, as rain has ensured the festival site is thick with mud.