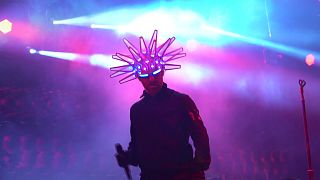 The eleventh Black Sea Jazz Festival was bigger and bolder than ever this year at its beautiful beachside venue in Batumi, the third largest city in Georgia.
The line-up featured hip hop trio De La Soul, jazz and gospel band Cory Henry and The Funk Apostles and funk and acid jazz genius Jamiroquai headlining.
Batumi Black Sea Jazz Festival mit JB-Lighting https://t.co/38GZn0H88n#jblighting#mslightspic.twitter.com/MlLWhAEiFy

— JB-Lighting (@JB_Lighting) July 20, 2016
The festival's founder described his family promoted jazz in Georgia in what were difficult historical times.
"Jazz was very dangerous, to listen and to buy LPs, my father became General Manager of the record company Melodiya, it was the only one in the Soviet Union. I don't know how, but he did one festival in 1978, it was one of the first festivals of the Soviet Union," Kakhi Kandelaki said.
Since then the festival has grown exponentially, and last year for its tenth anniversary it hosted Lauryn Hill, Quincy Jones and Busta Rhmyes.
This year Grammy winners Cory Henry and the Apostles caused a big sensation when they played from their new album due to be released in September.
Cory Henry's musical journey as a jazz organist, pianist, and gospel musician, began in Brooklyn, at the age of two when he banged a few keys on the organ at his mother's church.
He then made his debut performing in a competition at New York's famed Apollo Theatre in Harlem aged just six.
And since then he's collaborated with some of the biggest names in jazz and soul, such as Kenny Garrett, Lalah Hathaway and The Roots.
"This new Funk Apostles record is about love. I think the ins and outs of a relationship, people who are looking for love, people who have been in love, who had their heart broken," he said in a rehearsal break.
The festival now attracts around 7,000 visitors each day – increasing in size as it grows organically and absorbs more musical styles.
"We have slowly moved from jazz to more light music, which seems to fit the atmosphere better, it's also lowered the age of our visitors, which gave us the ability to bring in more dynamic musicians," Giorgi Kereselidze, the director of Eastern Promotions which said.