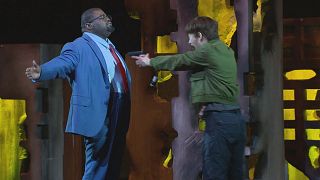 This year opera program of the Salzburg Festival starts with Mozart's last opera La Clemenza di Tito, sung in Italian.
La Clemenza di Tito is Mozart's last opera, and was written in 1791. The new production is directed by Peter Sellars and by conductur Teodor Currentzis.
Peter Sellars, director: "I think that Mozart really had had enough of the great-man-theory. And Mozart is about the community, not about the single individual. Single individual is part of and becomes more interesting in a democracy. "
Peter Sellars and Teodor Currentzis expand upon the story of the goodness and clemency of the Roman ruler Titus for their Salzburg production, reworking it yet again and extending the "true opera's" perspective, in keeping with Mozart's intentions.
Peter Sellars, director: "There is violence everywhere and look, all these people just pour into the street with their flowers and they show you something else. So for me that's the music of Mozart. "
The Salzburg Festival in Austria is running until the 30th of August.