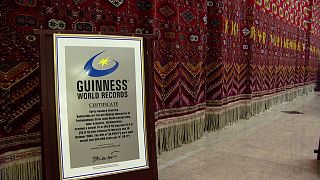 Ashgabat's Carpet Museum boasts more than 2.000 ancient rugs, including a stunning wine-coloured carpet spanning more than 300 m² – an impressive size which has earned it a Guinness World Record title.
It is one of the main attractions at the museum, which is also home to the ancient rugs used to cover horses and camels as well as carpet bags used as furniture by nomadic tribes in Turkmenistan.
"In old times, people stored dishes, salt and other items in such bags. There are also large decorative bags, which we call 'chuval', which were used to store clothes," museum guide Gulshirin Amanmuhammedova tells Euronews.
Ancient carpets are not only stored in the museum, they are also renovated there. With the help of a microscope, threads and needles, carpet weavers give them a second life.
"It's much more difficult to restore an old carpet than to weave a new one. It takes just two days to weave 10 cm, but ten days to restore it," explains restorer Ogulsapar Charybaeva.
300 ancient rugs have already been renovated at the museum, most of which are on display for visitors to admire.