Mostar's historic buildings have been a draw for generations of tourists but the city's walls now offer a more modern attraction – street art.
For the sixth year in a row, Mostar, the southern city in Bosnia and Herzegovina hosted the Street Arts Festival.
The influence of the graffiti and mural artists is visible almost on every corner: on renovated constructions; on destroyed blocks; on the street that marked the city's division during the 1990s war. The art crosses the ethnic lines that soldier sought to impose.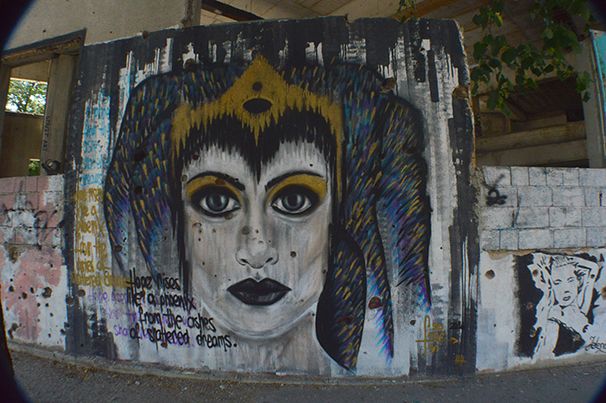 "At least when it comes to the urban culture the graffiti and murals gave a new identity to this city. And having in mind that the city has over a hundred painted murals, the city itself has become one big gallery of street art," said Marina Mimoza, the festival organizer. Thanks to her and the team that work besides her, great number of artists are coming to Mostar every spring. This year's edition of the festival gathered artists from Croatia, Slovenia, Serbia, Montenegro, but also group of artists from Uruguay and Argentina.
Based on the number of artists who are painting the walls of this southern Herzegovinian city and the interest that the graffiti and murals are evoking from tourists, it is clear that the festival is getting its international recognition. But as Mimoza pointed out, when they first started in 2012, this success seemed a long way away.
"Tourists are really liking the street art here. But if someone had told me six years ago that the street art will become so popular and known in here, I wouldn't believe it," said Mimoza. "I really think this is nice, and particularly since we have a lot of abandoned space, lots of ruins and there is still a lot of space to work on."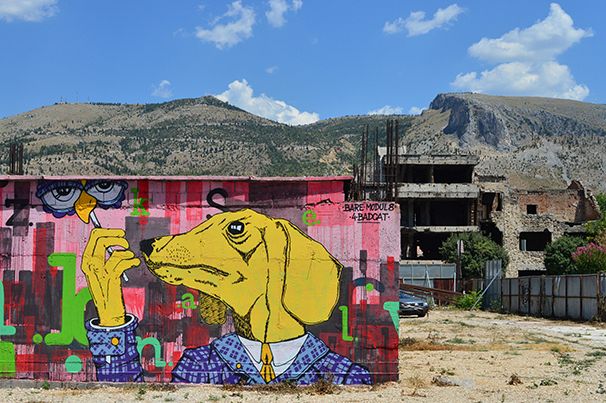 Unlike previous years when the artists focused on the Glass Bank, a tall destroyed building in the center of the city, this year, artists were mostly devoted to Šantić street and the Konak, a former Yugoslavia military headquarters.
"It's half ruined building. We cleaned it, children planted flowers, they also painted the walls outside. But also, we painted inside and made an art gallery from one of the devastated rooms," explains Mimoza.
This year's guest artists from Uruguay and Argentina did the most work on Šantić street, which once divided Serbs and Bosniaks in the city and still bears the scars of war.
"My personal belief is that Šantić street is ideal to become a mural street. It used to be a division line during the war. And now, just when you meet with the people who are still living there, you see how hard our reality is. But you can't live in the past, you need to live now. Of course, you have to understand suffering of others, but we have to continue with our lives," notes Mimoza.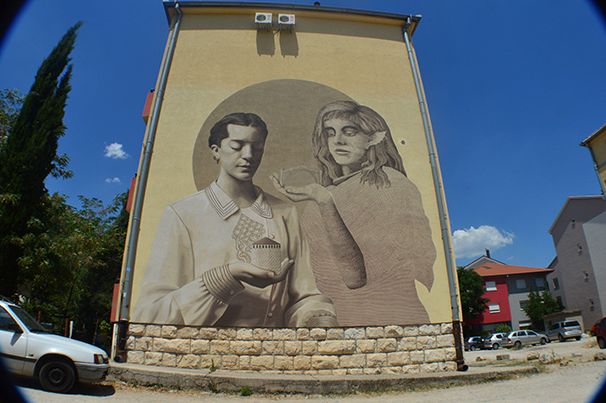 Claudio Nunez, an artist from Uruguay who painted one of the murals on Šantić street said that it felt really good for him and his Colectivo Licuado to take a part in a Festival and to share their art with the people of Mostar. Members of Colectivo are traveling around the world and they are trying to visit as many places and to leave the traces of their art. As Nunez explains, it is their belief that art can always unite people, even though it takes time sometimes. "So many people have worked together as volunteers to make the festival possible, and they are working for a better future, putting up coloursin Mostar."
Mostar's complicated political system has enabled local elections to take place for nine consecutive years, but the city is still searching to recreate the joy and unity it was once known for. As Mimoza notes, art makes life brighter and everyday challenges more bearable: "It is nice that we are becoming a city who embraces street art, because we don't have a lot of that in this country."
By Una Čilić
You might also like