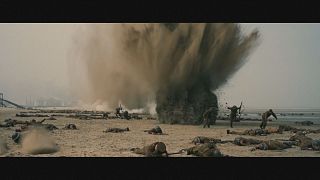 One Direction star Styles is making his film acting debut in Christopher Nolan's new action movie, about the World War II battle in which British, French and Belgian soldiers were trapped on French beaches by German forces.
Described as a "miracle of deliverance" at the time by British Prime Minister Winston Churchill, the 1940 evacuation was considered one of several key events that determined the outcome of World War II.
Prince Harry, who served with the British forces in Helmand, Afghanistan on two operational tours, met with Dunkirk veterans earlier in the day at London's Kensington Palace.
Speaking about trying his hand at acting Styles admitted he was nervous going into the project as he didn't want to let anyone down.
His director was full of praise for his acting, joking that he has no idea quite how famous Styles was before casting him as a soldier fighting for his life.
Styles, who has launched his own solo music career since boyband One Direction have been on a break, seemed unsure if he wants to continue acting telling Reuters this might be the only movie he acts in: ''I don't know, I really enjoyed this, I might be one and done though – I'd do this one again for sure.''
Nolan directs the movie, which recreates Operation Dynamo, in which some 338,000 soldiers were rescued between May 27 and June 3, 1940, by warships and a flotilla of pleasure boats and other small craft.
The British cast also includes Tom Hardy ("The Revenant"), Mark Rylance ("Bridge of Spies") and Kenneth Branagh ("Wallander"). As well as other up and coming stars including Fionn Whitehead and Aneurin Barnard.
Prince Harry met with the cast inside the theatre. "Dunkirk"