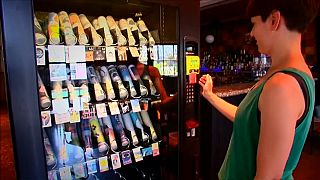 In Brighton on England's south coast, they like to do things differently.
So a group of artists have taken their works off the gallery wall and put them on sale to the public in a vending machine.
Much like the cans of drinks that normally inhabit such machines, the prints are delivered to buyers rolled up in a tin. Buyers can select their choice after browsing a menu of the pictures inside, affixed to the machine.
Just put your money in the slot …and out pops a piece of culture.
It is reaching a whole new audience.
"I think it's a great idea," said student and art lover Kate Temple-Mabe.
"I think it does bring art to a market of people like me who really appreciate it. I mean, I definitely appreciate having things on my wall and I'd like to have more things on my wall!"
Vending machines for art lovers opens in Brighton https://t.co/pHZFdRlrmzpic.twitter.com/8KH5HLQUcg

— teleSUR English (@telesurenglish) 9 juillet 2017
The machine, located in a club in the centre of the city, offers prospective buyers prints from emerging artists for prices ranging from 20 pounds ($25.75) to 50 pounds.
That is certainly more than a cup of coffee or a bag of crisps – but the contents of this vending machine are for keeps.
"Sometimes art can feel like, a bit pretentious or a bit unattainable", said illustrator Helen Heitt, one of the artists whose work is for sale in the machine.
"But if it's in a vending machine, it kind of strips that all away."
with Reuters