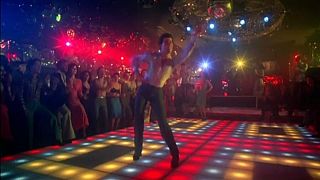 The "Saturday Night Fever" dance floor where John Travolta captured the 1970s disco craze is going up for sale next month and could fetch up to $1.5 million.
John Travolta dancing in Saturday Night Fever(1977) pic.twitter.com/Mq4KMhNkaV

— peterkidder (@peterkidder) June 26, 2017
The dance floor that lit up in red, blue and yellow in rhythm to the music was custom-built for the 1977 movie whose soundtrack featured disco hits by the Bee Gees including "Night Fever" and "You Should Be Dancing".
The floor, measuring 24 feet by 16 feet (7m by 5m) and housing more than 250 separate light compartments, was fitted into a small club in Brooklyn for the film's famous dance scenes.
It will go up for auction in Los Angeles during the June 26-28 Profiles in History Hollywood Auction, and carries an estimated price of $1 million to $1.5 million.
Vito Bruno, who owns the floor, said he started his career at 2001 Odyssey, the club in Brooklyn where "Saturday Night Fever" was filmed. The club later changed its name and then closed in 2005.
"The movie, 'Saturday Night Fever' made this floor iconic because it ushered in an entire new music genre, and it was the focal point of an entire generation," Bruno said.
"You see the floor it takes you right back – I mean, it's like it was yesterday. Because the floor is in such great condition, you know, and the lights start flashing. I just remember it was my first feature film, the floor represents, it's an icon, you know."