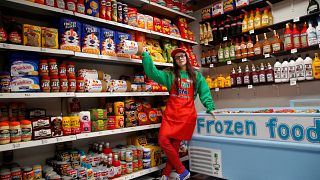 British artist Lucy Sparrow has opened a convenience store in New York City, but the products on display for sale are made of soft, felt material. The art installation is called "8 'Till Late", and it is set up to look like the real thing. One of the aims of the exhibition is to take patrons back in time and perhaps provoke childhood memories says the artist.
"My work is so much about nostalgia and creating an emotional response to art works. So often you will go around to art galleries and it's quite sterile. You can't necessarily get that involved. But this is supposed to be an all-encompassing experience, you know, like ultra-sensory…" she says. "Just for the entire project, I really like spend a lot of time making sure I get it right. Because that's the things the people really appreciate – little, tiny details that might be overlooked if you weren't concentrating."
There are 9,000 items in total and it took 9 months to prepare this installation. Everything is for sale and everything on the shelves is individually handmade and signed by the artist. Most of the art objects range in price from $30 to $75 . The "8 'Till Late" exhibition is scheduled to run until end of June in New York.