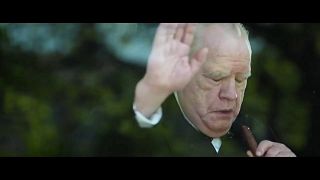 Among several current depictions of Britain's wartime prime minister on big and small screen, Jonathan Teplitzky's film "Churchill" focuses on the influence of his wife Clementine in the 96 hours leading up to the Normandy landings of Allied troops in June 1944.
In the film, Winston Churchill (played by Brian Cox) is seen as reluctant to embark on a large-scale campaign, scarred by the mass casualties of World War I and fearful of the consequences of sending thousands of troops to an uncertain fate. The timing of these doubts has been fiercely contested by some historians, who say that despite his earlier scepticism over a premature invasion, by this late stage Churchill was totally behind the operation.
As he clashes with US General Dwight Eisenhower (John Slattery) and British Field Marshal Bernard Law Montgomery (Julian Wadham) in the movie, Churchill's wife (played by Miranda Richardson) offers him strength and guidance.
The actor who plays Churchill describes the woman behind the politician who helped end the Second World War as a "rock".
"The relationship is really the centrifugal force of the film. You know there's no question about it because at that time he's in an incredibly vulnerable state and he needs this rock, I mean this kind of anchor that she clearly was. And I believe it, I don't think there's any question about it, I don't think he could have gone on if it wasn't for her," Brian Cox said in a recent interview.
Miranda Richardson said she prepared for the role of playing Churchill's wife by reading recently published books and by studying photographs.
"I find photographs really revealing and often Clemmie is bright, and laughing, throwing her head back, or grinning or something; she's, you know, presenting a really strong persona alongside bolstering, supporting and also quite a good wardrobe," the actress said. "She hid her light under a bushel – you know the proverbial – and that is how she wanted it. It was about putting him forward but by God she influenced him."
Churchill enjoyed alcohol and famously suffered from depression, which he called the "black dog". Cox believes the condition made the prime minister more sensitive.
"I think he was an incredibly sensitive man underneath this bulldog exterior. He was more sensitive than people give him the benefit for. Because you see him, you know you clearly see him when he's preparing his speech and when he's giving his speech, it's two different animals. You know there's two different animals at work and that from the actor's point of view is a gift, because you're not dealing with something that's just caricature. You're dealing with something that has 360 degrees," the actor explained.
Director Jonathan Teplitzky was last seen behind the camera for the 2013 film "The Railway Man". His follow-up "Churchill" is released in the UK on June 16, and earlier in some other European countries and in the US.

Owen Gleiberman: 'Churchill' Review: Brian Cox plays Winston Churchill on Eve of D-Day | Variety https://t.co/cUVgjYK1uN

— Terry McCarty (@TVMCCA) May 30, 2017
'Churchill': Film Review – The Hollywood Reporter https://t.co/enCxkmVwvI

— JD Public Relations (@juliajdpr) May 30, 2017
Review of the new #Churchill film by aroberts_andrew</a> : I'm staggered & disappointed to read the long list of errors <a href="https://t.co/WCYtsvZYez">https://t.co/WCYtsvZYez</a></p>— Paul Reed (sommecourt) April 1, 2017