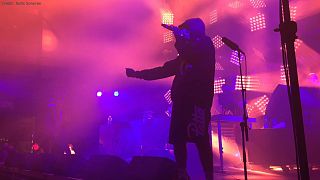 It's a music festival in a constant state of evolution and migration. Nuit Sonores – an urban event held in Lyon, France – seems to offer a bigger, bolder and more diverse line-up every year.
Born in 2002, this year the festival marks its 15th birthday and to celebrate it has pulled out all the stops with an international line-up that includes Nina Kravitz, John Hopkins and The Chemical Brothers. The festival may still be electro at its core but don't be surprised to see hip hop, rock or even the odd jazz legend grace the stage (more on that later).
The day before the inauguration, the Nuits Sonores team admits to being exhausted but excited as they prepare for this biggest edition yet. Euronews managed to steal a few minutes to get nostalgic with artistic coordinator Pierre-Marie Oullion who has been with the festival from year 1 where he started out as an intern, running around the country to round up support for an unknown event. Today he's one of the people heading up this world-class festival.
So firstly, happy birthday to Nuits Sonores, 15 years old! Let's wind the clock back to the beginning. How did the festival come about?
It all started with a collaboration between an association – Arty Farty, 3 girls that were organising a contemporary art and dance music festival in a warehouse in Lyon, at La Sucrière. It was born from a meeting of this association and some strong personalities in the city such as Vincent Cary who was a journalist at the time and part of the techno culture in Lyon.
It was this mix, also with the mayor, and an ambition to create an event for young people. [Gerrard Collomb] had just been elected, he was the first city mayor from the Left. So this political intention to really open the city to youth and also to open Lyon to people outside the territory and to be more known in Europe, that is how it was born.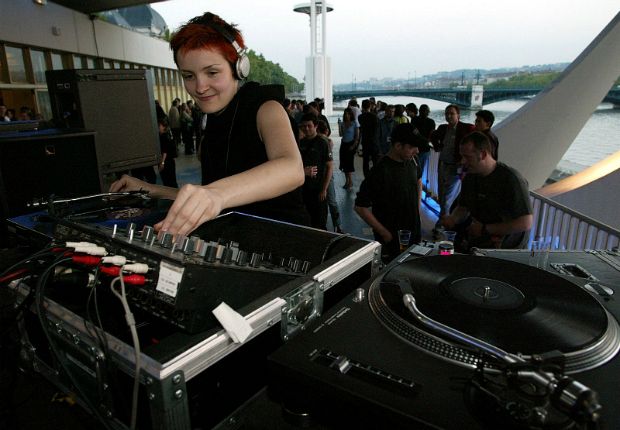 DJ Flore, from Lyon plays at the 3rd ever edition of the festival at the Piscine du Rhone. Photo credit: Lauren Thévonot
You were there at the first ever edition of the festival. What was it like?
The first edition was really, I wouldn't say amateur, but it was really handmade. Everyone was working 24 hours a day doing everything from the bar to the running, to the production.
At the end we were all so tired but so happy to make it happen for the first time. We really had an feeling that something had been born, something Lyon needed. So straight away we thought about the future and the second edition.
It was really a question of friendship, I remember I had asked all my friends to volunteer at the festival, 15 friends, so everyone was grabbing friends to make things happen.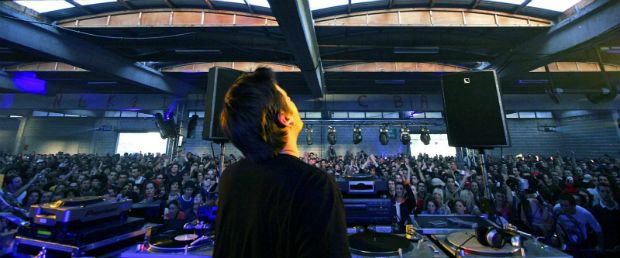 Laurent Garnier in 2005 at the Salins du Midi. Photo Credit: Denis Chaussende
It's obviously great that the festival has been such a big success but how do you maintain the original atmosphere. Is it possible?
To be honest, I think yes, when you are growing and growing you miss some stuff. Now Nuits Sonores is less of a family thing. Some festival goers miss some of the first things we did, like we used to do a free open air party and now it's not possible because of security, because the context has changed. And because now we are big. So yes, some people miss the "artisanal" way of doing the festival. But actually what we have kept and what makes our success, why we're still here is because we still have a great, demanding lineup. We want to make people discover new artists, the underground culture and to tell stories. I think we are actually more underground than in the beginning. We are taking more risks. We try to keep the spirit, to not be just another festival like the others but to be individual. We don't repeat things, we rethink all the time and this year we are very proud of the risks we take.
Vitalic ODC live en direct des étoiles ✨ #nuitsso2017pic.twitter.com/ZXcgxmC8Kd

— Nuits sonores (@Nuits_sonores) 24 mai 2017
Nuits Sonores has always been an urban festival, using disused spaces around the city. With current development, especially in and around the Confluence district, are you worried for the future of the festival?
Absolutely not, the DNA of the festival is to change all the time … It's really something that can help the festival to develop, that the city changes all the time. You have new places, venues that are changing, new areas, like Confluence. It was really interesting because it was the first time that we had used a whole neighborhood to do the festival. Before we were more spread out in the city.
We are hopeful for the future. Lyon has a good dynamic so naturally the festival will have the same dynamic. We always try to find new energy, new people, new organisations to work with and try to develop this exploration of urbanity in Lyon.
And finally, we want an insider's tip. What do you think will be the highlight this year?
I have so many highlights it's always a tough question! But this year I am really proud of the choice and luck we've had to get Pharoah Sanders. Pharoah Sanders is a 77-year-old jazz musician, the last musician to have played with John Coltrane. It is really interesting and risky to put him on the night time, surrounded by young artists from the electronic music field. But it was important for us to show the audience how the electronic music field is a creation process that is not only technologic, it comes from the spiritual jazz that Pharoah Sanders has created. So it's important to see how house music is connected to him. It will be a crazy performance because he will play things outside of what you'd expect from a Nuits Sonores night and some things really linked to the current scene and the future scene. It's really a key artist for me this year.