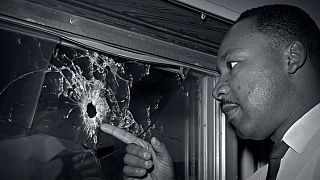 As the awards season comes to an end, a film festival in Geneva has turned the spotlight on human rights abuses.
The International Film Festival and Forum on Human Rights is dedicated to documentary and feature films which expose human atrocities across the world.
Director Isabelle Gattiker hopes the festival will raise awareness of the darkest side of humanity.
#TheWarShow, #IAmNotYourNegro, #BurningBirds & many more → Discover all the laureates #fifdh17 on our web site https://t.co/G0hc4NZnyIpic.twitter.com/R2BiqGS9Qo

—

FIFDH

Genève (@fifdh) March 20, 2017
Speaking to Euronews from the festival, she said: "We want to say through this festival that indifference is absolutely impossible in 2017.
"We must all commit ourselves, we must all react.
"Either by supporting an association, writing letters or denouncing what is actually happening.
"We are all actors of this world."
The powerful documentary Silent War, which has yet to be finished, was awarded one of the top prizes at the film festival.
The French-English journalist Manon Loizeau tells the stories of Syrian women imprisoned and raped by Government forces following the outbreak of civil war.
#fifdh17: 10 days of cinema, debates & encounters to stand up for #HumanRights! Thank you all! See you from March 9-18 2018 in Geneva! pic.twitter.com/r428WtswZM

—

FIFDH

Genève (@fifdh) March 25, 2017
She told Euronews: "This is the perfect crime for the regime.
"The women are raped and then when they leave they can not talk about what has happened because they will be rejected by their families.
"It is not a film about rape. It's a film about Syrian women.
"Who they were before, their dreams of the revolution and the moment when it changed and how they survive today."
Film maker Raoul Peck was also a winner for his Oscar-nominated film I Am Not Your Negro, based on the manuscript of US civil rights activist James Baldwin.
Speaking to Euronews, he said: "Baldwin also says in the film that for him the entertainment industry, and I include television in that, is similar to the drug industry.
"If we look at the number of hours of reality TV there is, it doesn't help to clear things up and there is a great rise of ignorance."
Critics can't stop raving about #IAmNotYourNegro, calling it "a cinematic miracle." Now playing, get tickets: https://t.co/Ss0iO7KiMRpic.twitter.com/Mw0rEUsxfH

— I Am Not Your Negro (@IAmNotYourNegro) February 11, 2017
One of the highlights of the festival was 500 Years which follows the genocide of the Mayans in Guatemala, who lived under the thumb of the ruling white elite for five centuries.
It's the final part in a trilogy of documentaries about the Mayan's struggle by US film maker Pamela Yates.
She told Euronews: "We are living in a time now when we are resisting authoritarian governments, in United States, Latin America and Europe and we are seeing the closing of civil society spaces.
"So I think we can learn a lot from the wisdom of the Mayans in terms of how we organise our own resistance around the world."
The festival honored critically acclaimed Cambodian film director and screenwriter Rithy Panh – who has gained international praise for his documentaries about the aftermath of the brutal Khmer Rouge regime in Cambodia.
L'élégie de Rithy Panh dans un monde régressif https://t.co/SF1LmFi4gZpic.twitter.com/heIBoP1gbP

— Alcofribas (@Yonnescaut) March 18, 2017