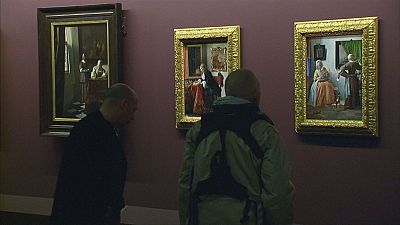 A landmark exhibition of the major works of the Dutch master Johannes Vermeer has opened.
"Vermeer and the Masters of Genre Painting" at the Louvre in Paris presents a third of the Dutch Golden Age master's complete opus to the public.
It is the biggest such collection of his work in Europe in almost two decades and re-interprets the artist through the context of his time.
"Genre painting is a specific type of painting. The representation of daily activities, music playing for example. But of course it is very orchestrated, it's theatrics in a way. It's like comedy, but not merrymaking. It's all about the refined taste of the period," explained Blaise Ducos, Curator, Louvre.
Among the paintings is The Milkmaid from around 1660, on loan from the Rijksmuseum in Amsterdam and Woman Holding a Balance, on loan from the National Gallery of Art in Washington DC.
A new #Vermeer exhibition MuseeLouvre</a> breaks the myth of Vermeer as a solitary genius<a href="https://t.co/HmuE3ttPX0">https://t.co/HmuE3ttPX0</a> <a href="https://twitter.com/artdaily">artdaily#artpic.twitter.com/XO79aSUClU

— Netherlands Embassy (@NLintheUSA) February 22, 2017
Vermeer, the unique jewel in Dutch painting's crown, copied ideas from his contemporaries like every other artist.
"His themes are very classical. Music making, lace making, that has been done before. But actually he transmutes, he translates, he puts on a pedestal his themes and he has a distinct specific psychology. There is a mood in Vermeer that you do not find in other paintings," added Blaise Ducos.
According to the Louvre the genius of Vermeer, who died aged 43, and having produced just 36 paintings, can be seen in how he transformed rehashed themes and techniques.
The exhibition runs from until May 22 at the Louvre in Paris, before travelling to the National Gallery of Art in Washington DC in the autumn.