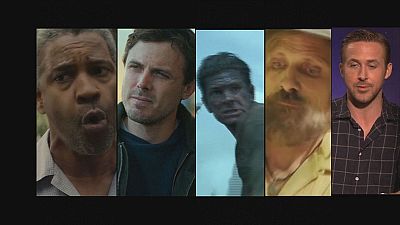 As if there was any doubt, 'La La Land' proves Ryan Gosling's got the looks, the majestic moves and a velvety voice in bundles.
He's already been nominated for Best actor before but he says he wouldn't be among the favourites without support: "There's so much hard work that went on from all the technicians and the crew and we had this incredible team of coaches, it was just like an endless supply of goodwill at your back, pushing you along.
Like Gosling, Denzel Washington pays most credit to his supporting cast for his powerful performance in Fences in which he plays a disgruntled sanitary worker, angry over his failure to make it into baseball's major league.
Washington, who also starred in the stage version, said: "I was wise enough, smart enough, to use those great actors that did the play. Viola, Stephen Henderson, Mykelti Williamson, Russell Hornsby.
Casey Affleck's turn as a brooding odd-job man entrusted with caring for his teenage nephew has won wide critical acclaim and given him a strong chance of causing an upset.
Britain's Andrew Garfield plays an American soldier and pacifist who won the Medal of Honor for his actions during the Battle of Okinawa in the biographical war drama film – 'Hacksaw Ridge'.
And last but by no means least is Viggo Mortensen nominated for his role as the very firm but fair hippy-like dad in "Captain Fantastic"
He plays Ben Cash – the father of a survivalist family who is forced to integrate his children back into society when his wife falls ill.