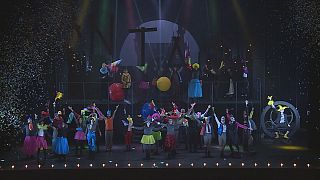 Jacques Offenbach's "Fantasio" is back on the opera stage in Paris, at the Théâtre du Châtelet. With a libretto by the de Musset brothers, its score was thought long lost in a fire but was recently pieced together and restored to its former state.
"Fantasio" is a comic opera, where sung scenes alternate with dialogues. For mezzo Marianne Crebassa it is another 'pants role', another challenge, and a new triumph.
"This is a complex character. Theatrically speaking because Fantasio dresses up as the court jester, he himself changes into another character inside the story; but also because inwardly Fantasio is a multi-layered character: he can be contemplative, bold, but also disillusioned. Music brings out the emotion, and the romantic side in Fantasio, whereas the spoken text shows his other side: Fantasio the gang leader, the revolutionary, the anti-monarchist. What I put of myself in him is both my spontaneous and playful side, but also my deeply melancholic side," says Marianne Crebassa.
Thomas Jolly, the stage director who is also a successful actor, has brilliantly exploited the nuances in the composer's and therefore the character's personality.
"The Jacques Offenbach who composed this opera provides a different image of himself in this work: slightly darker, more…intimate, a sort of acceptance of his condition as a human being. There's less humour, less brilliance, less amusement but possibly more pensiveness and introspection, too. And he actually changes the end of the play, by de Musset, that this opera is based on, and turns it into an appeal to peace, a real hymn to it, coming from his true pacifist nature," he says.
"I have had the pleasure to work with wonderful singers in this production, and like all great artists they were humble, and brave enough, to leave aside their 'technique' for a moment, and their need to be efficient at all cost, which is typical of opera singers. On the other hand, they accepted to search, to risk making mistakes, to test new things, as is more usual with stage actors. And I think that this different way of working, avoiding the need to be efficient all the time, has been a sort of relief for them; they had a chance not to be right immediately, and do what you do when you create: you search, you experiment, you make mistakes, and then, finally, as we are supposed to, you find a solution!"
Marianne Crebassa agrees.
"I think that in "Fantasio" you have to find the right 'colours' with your voice, particularly because it's two characters in one. On one side there's the languid, romantic element; on the other, in the case of the jester, the singing is more 'spicy'. There are also some very dramatic, flamboyant moments, with amazingly high pitches. More than just a singer I really had to be an actress, be truly bold, and set aside all sort of modesty," she says.