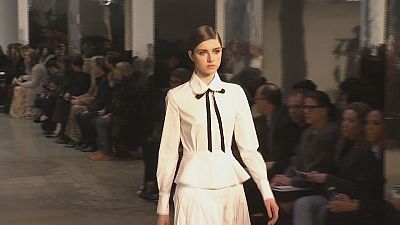 Veteran fashion designer Carolina Herrera presented what she called, "my white shirt moment" at New York Fashion Week.
It is her signature look and the designer presented a variety of white blouses in this collection. Her aim was to show the white shirt and how to wear it.
"The 2017 collection represents the essence of Carolina Herrera. It has an unforced elegance, with an uncomplicated silhouette. It's designed for the woman who doesn't want to look like she's trying too hard. There's an emphasis on the white blouse. I use it in a number of different ways. – for example, in poplin, with suede accents. The collection is very feminine, very serene," she said.
Carolina Herrera starts with the white shirt #NYFWpic.twitter.com/oKS66bVAOO

— Vanessa Friedman (@VVFriedman) February 13, 2017
The white shirts were all crisp but they came in different styles many of them sported bows: at the collar, around the waist, or on the puffs of sleeves.
Away from shirts, the bows reappeared everywhere: at the pockets of a coat or on filmy gowns, at the shoulders or around the neck.
Calvin Klein
A collection which reflects the environment. That is how Raf Simons described his debut collection for Calvin Klein. "It is the coming together of different characters and different individuals – just like America itself," he wrote in his show notes.
There were sheer mesh tops that left little to the imagination. The American West for both women and men featured with denim jackets over loose jeans, or colorful cowboy-style shirts.
There was sporty America, in striped tube-sock sleeves. There were crisp business-like suits in black and white, and coats in colorful quilt patterns.
Moonlight's Ashton Sanders score one of #NYFW's most coveted tickets. https://t.co/6AyTs2OMpV

— Vogue Magazine (@voguemagazine) February 12, 2017
Jason Wu
It was back in 2009 that Jason Wu leapt to prominence as the designer of Michelle Obama's first inaugural gown – and then he repeated the feat in 2013.
This year, he's celebrating the 10th anniversary of his label, and he marked the occasion with a collection of wearable, elegant designs that arguably showed he knows more than most how to make simply pretty, unfussy clothes.
The collection was focused on "the luxurious femininity at the core of the house," he said in show notes. It featured soft suits and flowing dresses in flattering shapes.
Colours ranged from "lipstick reds" to "amber golds" to "juniper greens."
At the St. Regis hotel. A #jasonwu moment during New York Fashion Week. https://t.co/k1OTci6J8Ypic.twitter.com/R33V7BLAes

— Robin Givhan (@RobinGivhan) February 12, 2017