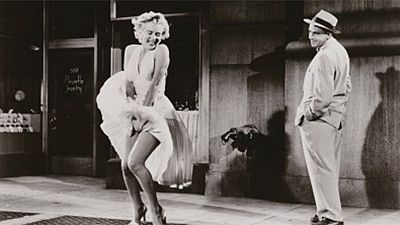 Photo
Pictures which have been re-staged by film photographers for the stills camera on a film set are on show at an exhibition at the Albertina Museum in Vienna.
Three more weeks: #AlbertinaFilmStills closes on 26 February.#Photography#FilmStills#Vienna#Wienpic.twitter.com/hDbVoM9i2F

— Albertina Museum (@AlbertinaMuseum) January 29, 2017
The museum is turning the spotlight on this hybrid genre for the first time in a comprehensive exhibition of 150 film stills taken between 1910 and the 1970's.
Retrospective Robert Rauschenberg
Robert Rauschenberg was an American painter and graphic artist whose early works anticipated the pop art movement.
https://t.co/4jRGevcVC4 Pop Art at the Tate – exhibition on until April 2nd #ntudcc

— peter wright (@pwlinks) February 8, 2017
This exhibition at the Tate Modern in London celebrates his extraordinary six-decade career, taking you through modern art in the company of a truly remarkable artist.
1917: Romanovs & Revolution
The gripping story of fashionable St. Petersburg in 1917 at The Hermitage in Amsterdam.
The story unfolds with films, photographs, paintings, objets d'art and historical documents. They help to recall the time of Tsar Nicholas II and his wife Alexandra, and of the explosive political and social circumstances of their reign.
The Last Emperor. #hermitage#museum#Amsterdampic.twitter.com/1K6MO4cLE4

— Anthy Hogenstijn (@AtreyuLifestyle) February 9, 2017
Istanbul Independent Film Festival
The 16th Istanbul Independent Film Festival opens with one of the most talked about and acclaimed films of the year – 'Moonlight'.
The festival looks at the documentary filmmaker as activist, artist and truth-teller.
For filmmakers working in the region it is a challenging climate in which to tell the stories they feel need to be heard.