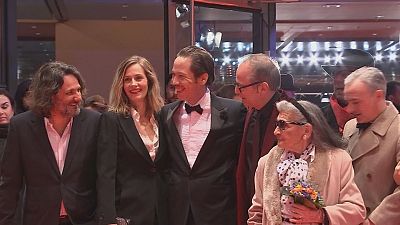 The 67th edition of the "Berlinale" kicked off on Thursday evening with a star-studded opening ceremony.
As was fitting for the festival which has been described as the most political in Europe, on the red carpet the main theme was politics.
Politics hit the red carpet at opening night of #Berlinalehttps://t.co/Sa6iShVzH3pic.twitter.com/0z4Jl1fIRJ

— Variety (@Variety) February 9, 2017
''I hope that people take away from this 10 days that it's great to live in peace with a variety of people in the world, with different cultures, with different colours, with different religions. The world is much more colourful than people think,'' said Festival Director Dieter Kosslick.
One internationally famous artist and dissident said films must be political.
"I think all films should be political, because we are living in a world that needs a new voice otherwise everything will be more crazy," opined Ai Weiwei.
The jury too warmed to the theme during the first news conference. Mexican actor Diego Luna added a touch of humour to events past and present.
"I am here to investigate how to tear down walls, apparently there is many experts here and I want to bring that information back to Mexico," he told reporters while and an American journalist added, "and to America".
" Exactly," responded Diego Luna.
The festival will open with the world premiere of 'Django'. It is the debut of the French producer-turned-director Etienne Comar and one of 18 films in the main competition.
Review: berlinale</a> 2017 opening film 'Django' <a href="https://t.co/2yxzoog1Aj">https://t.co/2yxzoog1Aj</a> <a href="https://t.co/xORlkWlfNO">pic.twitter.com/xORlkWlfNO</a></p>— Screen International (Screendaily) February 9, 2017