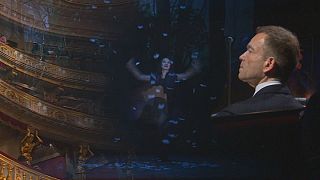 "The Fairy Queen" by British composer Henry Purcell is an opera which disappeared when he died at the end of the 17th century to resurface only at the beginning of last century.
A piece where Italian and French tradition merge to give birth to a very British masterpiece. In Vienna, a new production sets the action in the present day and it is going to be one surprise after another.
A tribute to magic, Shakespeare's magic. The magic of the stage, and the magic of love.
The Fairy Queen was recently put on in Vienna at the Theater an der Wien. In the pit: "Les Talents Lyriques" under the baton of Christophe Rousset.
#Toitoitoi to the soloists, ASchoenbergChor</a> and <a href="https://twitter.com/talenslyriques">talenslyriques#ChristopheRousset for the #FairyQueen opening tonight!!! pic.twitter.com/MFtx7xpqR8

— Theater an der Wien (@TheaterWien) January 19, 2017
---
Producing Purcell's opera is a challenge as it belongs to the genre of semi-operas, a mix of acted scenes, inspired by "Midsummer Night's Dream," with sung musical scenes unlinked to the staged action.
Not to bore the contemporary audience with too long or too inconsistent show, a captivating solution was found in Vienna.
---
Mariame Clément, stage director, spoke with Euronews:
"What's typical of "A Midsummer Night's Dream" is the-play-within-the-play… those actors who put on a play of non professional actors who put on the play "Pyramus and Thisbe." So, we thought: let's add an extra dimension: we're going to show people rehearsing "Fairy Queen", the opera about a play within another play etc. It is just an excuse to show men and women we know very closely, to the extent that we can show their emotions, their relations, their truth… to show things that move us, and which can move the audience too, even if the world of the stage, the world of the opera and rehearsal, is not known to the audience."
Conductor Christophe Rousset told Euronews:
"There so much charm, so much appeal in this music, simply by the fact that it appropriates, musically, what was going on in Europe at the time: the Italian tradition, obviously; but also several French elements, which Purcell draws on: choruses, dances and… the intimacy. There are, of course, many English elements: that special polyphony and its delightful dissonances Purcell exploits in his orchestration… And then the intimacy of all those 'songs', one following the other."
Farce and disguise were also typical in those times – an element that this production has successfully included.
"Although there are fanfares, trumpets and kettledrums I'd say that the most interesting feature in Purcell is the sentimental, emotional element," Christophe continued. "I try and move the public through them… they are of such rare a quality, and also require such subtle interpretation; I mean, you cannot 'mistreat' this music, you must 'handle it with care', and see that both the musicians and the singers are extremely careful not to spoil its fragility."
"The enchanted forest in Shakespeare is a metaphor for many things," Mariame told Euronews. "On that night, in that space, at that moment, our characters will live through never-experienced-before events, events that will change them for ever… It's a forest, then, at night-time, but the rehearsal room, the stage, rehearsing for weeks… that's also like a sort of enchanted forest… it's a magical place, where feelings come to life… grow… and die, where something like magic is in fact created."
Interview for euronews</a> now at <a href="https://twitter.com/TheaterWien">TheaterWien to present #FairyQueen#Purcell#MariameClement – ntmediauk</a> <a href="https://t.co/1IlpdMUBDN">pic.twitter.com/1IlpdMUBDN</a></p>&mdash; Talens Lyriques (talenslyriques) January 17, 2017