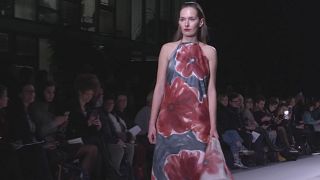 Off the shoulder dresses, flower prints in varying colours. No it is not the normal fashion show. It is The Green and Ethical fashion show held during Berlin fashion week.
It was started six years ago and this year a record 179 brands were taking part.
Fashion that respect the circle of life – Stockings by Kunert w/ #ECONYL#sustyfashionhttps://t.co/aaFWGHw4O1pic.twitter.com/1xJ5QSJ3RH

— ECONYL® brand (@ECONYL) June 6, 2016
German stocking label Kunert is showing a new line in fishnet stockings and yes they are actually made from fishing nets – recycled ones that had been left in the sea.
"We work with our partner Econyl in the recycling process. The fishnets are shredded, then other materials such as the remains of carpets are added. Then the fluids are removed and it becomes a granulate. And out of this granulate a thread is made and from that we make the stockings," explained Susanne Mayr, Kunert, Head of Brand.
And from the ocean too you can get a pair of high heels. They are made out of discarded salmon skin which is a bi-product of fishing and usually thrown away.
The skin is treated which makes it softer. Alina Schuerfeld is the designer. Shop online for a pair on her website make sure you have around 500 euros on hand.
There was a bit of style on show for the gentlemen. The Souras brothers are the designers behind some fetching bow ties. They are Greek and set up their company Exallo near the Olympic mountains. The fabric? It's not. All their Dickie Bows are made from sustainable wood.
The exallo</a> <a href="https://twitter.com/hashtag/makers?src=hash">#makers</a> faces will be in the most known <a href="https://twitter.com/hashtag/ethicalfashion?src=hash">#ethicalfashion</a> blogs. Stay tuned! <a href="https://twitter.com/hashtag/berlinfashionweek?src=hash">#berlinfashionweek</a> <a href="https://twitter.com/hashtag/handcrafted?src=hash">#handcrafted</a> <a href="https://twitter.com/hashtag/wooden?src=hash">#wooden</a> <a href="https://twitter.com/hashtag/accessories?src=hash">#accessories</a> <a href="https://t.co/1EgY4xQd6D">pic.twitter.com/1EgY4xQd6D</a></p>&mdash; EXALLO (exallo) January 18, 2017
If you are looking for something more traditional what about a silk tie from the Swiss company Carpasus? Silk used to be one of the most important industries in Zurich until its decline in the 1930's.
But Carpusus is heading something of a revival with their ties.
"For us its just nice to see silk being produced in Switzerland again. It gives farmers an income. We are a Swiss brand so we can produce locally. And we hope that we can help in bringing that craft back to Switzerland and that the volume produced can increase in the future,"Michael Zaech. co-founder of Carpasus.
Watch our first #commercial released online today! #neverunderdressed with #sustainable#fashion from CARPASUS: https://t.co/ScQdvEIz4f

—

CARPASUS

(@carpasus) June 18, 2016
Data, artificial intelligence, technology all are becoming more integrated into fashion. Belgian designer Jasna Rock has created a futuristic collar called 'Exaltation'. Fashion? It looks more like something from a science fiction film. Watch as it can read your mood.
"The model is wearing an EEG sensor (Electroencephalography sensor) that is capturing the brain waves and sends it in real time to the collar. The collar is reacting depending on how comfortable he is feeling. So for instance if you feel uncomfortable because I'm coming too close to you, or because you get too much images, you are stressing, the collar goes up to form a cocoon around you," she explained.
The clothes from design company Moon Berlin put on a show of their own. Their shirts have been designed with a pattern. An app recognises the patterns so when a smartphone is pointed at the clothes an augmented reality graphic appears. Different patterns generate different types of graphics.
On show was an LED lighted dress by Slovenian designer Anja Dragan. The industry has been slow to change she believes but is now moving quickly. The organiser of the show Anita Tillman agrees.
"I think it is going to be massive and people will use it. Because as long as it is simple and useful people and human beings use techniques and they use the future. So this is a normal way of evolution."
You might think the show is all about technical gadgets but this futuristic approach to fashion design gives the industry a new creative dimension and a new segment that is growing in the market.