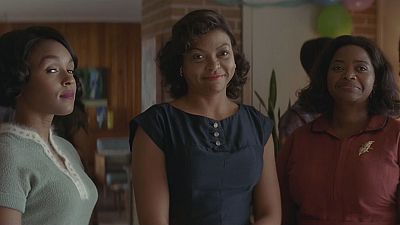 'Hidden Figures' tells the story of three brilliant African-American women who worked at NASA and were the brains behind the flight of the first American astronaut John Glenn into orbit.
The visionary trio crossed all gender and race lines to inspire generations to dream big.
Pharrell Williams co-produced the movie Janelle Monae stars in it.
"I am personally inspired by these women because they had to overcome so many obstacles and they persevered and they broke down barriers and they did not allow their circumstances to get in the way of them following and achieving their dreams," said Janelle Monae.
"There's an older generation that pushed this crazy propagandist idea that science and technology and engineering and math were for men, but they're forgetting that, there is no species, there is no humankind, there is no mankind without womankind," added Pharrell Williams.
For the next generation of potential scientists and mathematicians, HiddenFigures</a> is more than just a movie. <a href="https://t.co/1OHjZoZhFv">https://t.co/1OHjZoZhFv</a></p>&mdash; Twitter Moments (TwitterMoments) January 17, 2017
"Hidden Figures," is based on the book of the same name by Margot Lee Shetterly and tells the story of Katherine G. Johnson, a mathematician who participated in calculating flight trajectories for the 1969 moon landing and her colleagues at NASA, Dorothy Vaughan and Mary Jackson.
"Even though the women in the film are trying to win the space race, it's about propelling our humanity forward through science, technology, engineering and math and these young women, basically, are aspiring to do the same thing," opined Octavia Spencer who plays Dorothy Vaughan.
"Hidden Figures" has topped the box office for the second straight week in the US since its release on Jan. 6 2017.