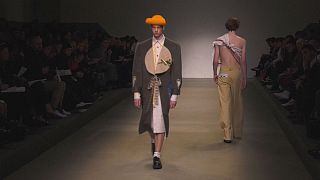 Models applied the finishing touches and prepared for the fashion runway. On show was the work of three young Asian designers all chosen by Giorgiol Armani.
He collaborated with the Italian fashion chamber whose president Carlo Capasa underlined the importance of helping young designers.
"It's a strong initiative because it's talking about the future. Mr. Armani has been doing this for many seasons, helping the new designers, giving them the space and choosing some nice designers to promote them," he explained.
The Chinese label Consistence kept it raw for fashionable men next winter and autumn.
"We used some different elements. For example, we used some trench elements, trench coats, This one is part trench coat and this part is still blazer ," explained the label's designer, Fang Fang.
She loves deconstruction and recombining. The label is based in London and the motto is balancing the casual and the formal.
Japanese designer Yoshio Kubo has benefited from the Armani initiative. He is a big admirer.
"I want to make clothing like him (Giorgio Armani). He's been designing for a long time, so my goal is to keep designing clothing," he said.
The 42-year-old was trained in the US and has based his Yoshioukubo line in Tokyo.
He gave the collection an East-meets-West feel. Kimono-style jackets paired with drop-crotch trousers, while Western blazers were deconstructed by unzipping the shoulders, letting them slouch down shawl-like.
#armani showcase created to promote young talents in the fashion industry #YOSHIOKUBO#MOTOGUO#CONSISTENCE#milanofashionweekpic.twitter.com/eb1LIR29um

— Designer_Brands (@Design_Brands) January 17, 2017
And from Malaysia someone to completely turn convention upside down.
"I think it's funny to a lot of people, this kind of design. It's more conceptual," Moto Guo said of his work.
Here's every look from #MotoGuo's latest collection, seen at Milan Fashion Week Men's. https://t.co/OomTknMAHNpic.twitter.com/cCa6iZ4C0t

—

ELLE

Malaysia (@ELLEMalaysia) January 19, 2017
The designer was the first to concede that the Armani theatre was not used to such "crazy" looks. The 26-year-old's collection looked like it walked out of a 1960's grammar school, with graphic lines, exaggerated details and soft shades alternating with garish patterns. Exaggerated proportions defined his collection.
In the past, the Italian designer Giorgio Armani has helped to launch the careers of Stella Jean, Andrea Pompilio and Au Jour Le Jour