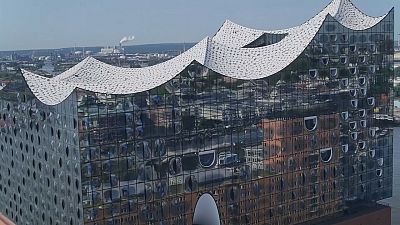 It overlooks the harbour like a giant ship floating on water, the Hamburg Elbphilarmonie has finally opened its doors to the public.
It has a red-brick base, a glass structure on top, curved windows and a roof that resembles the crest of a wave.
The new landmark was built at a cost of €789 million on a 1960s warehouse.
We're honoured to welcome the first guests to our Grand Opening concert. In 37 different languages! #elbphilharmoniepic.twitter.com/gQSYOGXq5H

— Elbphilharmonie (@elbphilharmonie) January 11, 2017
The spectacular venue was officially inaugurated on Wednesday with a concert at the Grand Hall which seats just over 2,000 people.
The NDR Elbphilharmonie provided the music under the direction of Thomas Hengelbrock.
"It's the special atmosphere which is created by the big hall here. You have a feeling of being nearby, the public is not far away. You can see and listen on each place perfectly," he enthused.
The opening concert marked the start of a three-week festival featuring a rich music programme from the Renaissance to the present day.
The highlight of the festival is a brand-new commissioned work, created especially for the occasion by the most important living German composer Wolfgang Rihm.
" We wanted to present the best of Hamburg music life, all the Hamburg orchestras. Then everybody expects the most famous artists from all across the world, all the big orchestras coming to Hamburg.
'Then it's a new building, so you also expect new music, new experiences and then the Elbphilharmonie is the so-called 'Haus für alle' – 'House for everybody'. So it's extremely important that it welcomes everybody, also people who are not into classical music yet," explained Christoph Lieben-Seutter Elbphilharmonie General and Artistic Director explained.
The opening of the venue and the first concerts confirm Hamburg's role as a prime music location – more than half a million tickets have been sold for the first season alone.