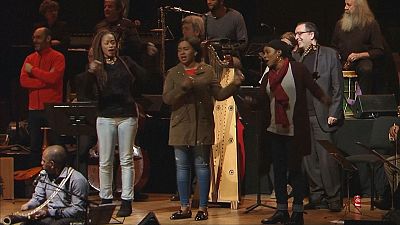 Renowned Spanish composer and viol player Jordi Savall brought together musicians from Europe, Africa and South America in Brussels this week for a musical journey.
The show travelled through 400 years of the history of slavery.
In "The Routes of Slavery" the 75-year-old put together music linked to places that were affected by the grizzliest aspect of triangular trade: the enslavement and deportation of millions of Africans between the 15th and 19th century. Music believes the composer is the best way to understand the past.
Today BOZARbrussels</a> at 20.30 last concert of our tour. <a href="https://twitter.com/FundacioCIMA">FundacioCIMA#LCR#HXXI#jordisavall#LesRoutesDeLesclavagepic.twitter.com/si3fnJ9bko

— Víctor Sordo Vicente (@tenorvictor) January 10, 2017
"Only if we know the history from our ancestors, we can be able to build a new future and I think this is what moved me to prepare and do all these projects about the history: because I think we need the art and the music helps us to understand what happened in our history," explained Jordi Savall.
Musicians from Mali, Madagascar, Morocco, Brazil, Mexico, Colombia, Argentina and Venezuela took part. The Routes of Slavery is a homage to the memory of the victims of the slave trade.
"The difference with the show that Jordi presents to us is that it doesn't show us beauty but instead it's a show that uses music to invite us to reflect on something that has happened in the past. But it also continues to be present today in another way – slavery," said Venezuelan singer Ivan Garcia.
The music was intertwined with text readings about slavery by Aristotle, British adventurer Richard Ligon, French philosopher Montesquieu, U.S. Civil Rights activist Martin Luther King and Nigerian Nobel Prize winner Wole Soyinka.
Savall will take the show 'The Routes of Slavery' to Hamburg and Lisbon in April.