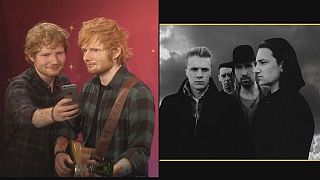 Irish rockers U2 will mark the 30th anniversary of their hit album "The Joshua Tree"
The Joshua Tree. Every song. Every show. North America & Europe this summer. #U2TheJoshuaTree2017 Dates/Tickets https://t.co/qk6D1yWz8Zpic.twitter.com/o0GjUyNDG6

— U2 (@U2) January 9, 2017
The band is set for a European and North American tour on which they will play the classic album in full. Released in 1987 it sold more than 25 million copies worldwide.
The North American leg of the tour will kick off in May in Vancouver, followed by a European section starting in London in July and including an appearance on their home soil at Dublin's Croke Park stadium.
Ed Sheeran
After a nearly two-year long hiatus British singer-songwriter Ed Sheeran has recently unveiled two new singles, "Shape of You" and "Castle on the Hill".
truly overwhelmed with the reaction to these new songs, I've never had anything like this, thank you for all your wonderful messages x

— Ed Sheeran (@edsheeran) January 7, 2017
The 25-year-old, who until now hadn't released any solo music since May 2015 returned to social media in December, posting cryptic messages about his work.
In a recent radio interview , the 25-year-old told listeners that he took a year off to travel because when on tour he "never saw anything other than hotels, venues and a bar".
He added the song "Shape of You" was intended for Rihanna but then changed his mind as the lyrics progressed.
Both "Shape of You" and "Castle on the Hill" are available to stream and download. So far there has been no update on whether a full album will follow soon.
Ray BLK
Twenty-three-year-old soul singer and rapper Ray BLK has been named the winner of BBC Music Sound 2017.
The annual award, aims to predict the most exciting music for the year ahead, with the winner chosen by a panel of 170 DJs, critics and festival bookers.
Oh. My. DAYS. Ya girl has made it as the bbcmusic</a> <a href="https://twitter.com/hashtag/SoundOf2017?src=hash">#SoundOf2017</a>... Literally can&#39;t believe it, SO GASSED! <a href="https://t.co/c1moHVsVKr">pic.twitter.com/c1moHVsVKr</a></p>&mdash; Ray Blizzy (RayBLK_) January 6, 2017
It has been won in past years by big names including Sam Smith, Adele and Elie Goulding.
The London singer, whose real name is Rita Ekwere, released her debut track "5050" in 2015. More recently, she brought out the EP "DURT," which featured songs "Chill Out," "My Hood," "Gone" as well as "5050."
Ray BLK is according to some critics is one to watch in the future.